Preserve pressed flowers from your wedding day or any of life's most precious moments.
Pressing flowers from your bridal bouquet is a unique way to cherish your momentous occasion.
Why Press your flowers?
Flowers are such an expressive part of your wedding.
Flowers convey feelings of love and happiness.
Blooms and petals are extended to the bride, groom, bridesmaids, groomsmen, flower girl, ring bearer, and other honored guests. Instead of enjoying your flowers for a single day, take your floral bouquets and have them pressed into a custom piece of framed art.
Let's connect, we want to talk with you further.
What is Flower Pressing?
Pressing flowers gives your petals a new lease on life.
Flower pressing is a sentimental way to preserve memories and document special occasions.
Utilizing traditional flower pressing techniques, Vancuterie makes sure that your blooms are cared for through every step of their journey into your home and hearts. Flowers are an integral part of your special day. When choosing flower preservation to eternalize your petals, you are able to keep your day alive as it blooms in your mind daily.
Ready to learn more?
"I hired Daphne to press my bridal bouquet, and would encourage anyone getting married to do the same. Of all the things I purchased for my wedding, having my bouquet pressed into a piece of art was definitely my favorite. It is something I will treasure forever. I highly recommend Daphne."
– Annette S., Seattle WA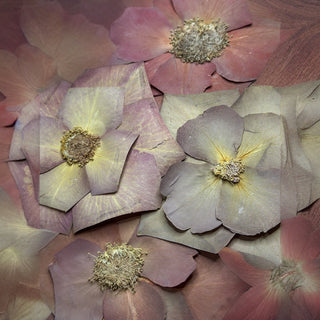 How Does Flower Pressing Work?
Overview
Flower pressing is a timely, intricate process. It can take up to four months to receive your pressed floral piece.
The flower presses fill up rapidly and once they are full, they must sit until the flowers are ready to be removed. Because this is such a uniquely intricate process, please submit your consult form as early as possible, making sure to note the date of your event. It's important to ensure that there is enough space in the presses and that there are enough flower pressers available to tend to your blossoms
Reserve your press today!
What is the Flower Pressing Process?
Step One: Drop-Off
Your flowers must be delivered to our studio immediately following the event.
Every flower taken from a bouquet goes through a careful selection process. Your flowers must be in pristine condition to press effectively, so if the flowers are browning or wilting, they will not be pressed.
You may wish to assign someone to drop off your flowers. If you cannot drop off your bouquet, arrangements can be made for pick-up for an additional fee.
We also accept shipped flowers, but it is your responsibility to ensure that the flowers reach us promptly and undamaged. The longer your blooms are outside a cool and protected environment, the more likely the petals will become damaged.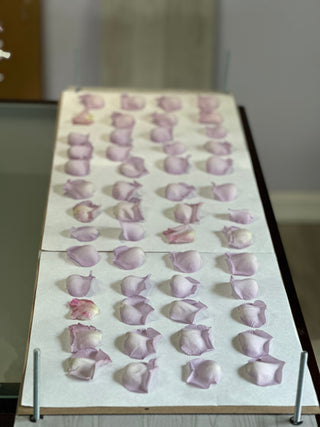 What is the Flower Pressing Process?
Step Two: Deconstruction
Your flowers come into our studio and undergo a metamorphosis.
From the moment your flowers arrive, they are welcomed and blessed, photo-documented, assigned to their own press, and held in a refrigerated location, waiting for petal deconstruction to begin.
The process of deconstruction is meticulous and begins within eight hours of receiving your bouquet. The first 72 hours are critical to the long-lasting beauty of your flowers, and the entire process can take between eight-10 weeks. You will be notified of your petals' progress as it transforms into your own timeless piece of magic.
Don't wait until it's too late!
What is the Flower Pressing Process?
Step Three: Design
The design of your bouquet will characterize the look and feel of your live flowers.
The real fun begins around weeks seven to eight when we design your unique pressed floral artwork. Design options range from traditional to modern themes, and you will have the opportunity to confirm the final design before the artwork is glued, framed, and delivered to your home.
How can we turn your flowers into a treasured heirloom?
Are you ready to to invest in your flowers?
"I loved the entire process. Daphne spent a lot of time talking to me about what I wanted. I really felt like she was invested in making sure I got what I wanted. I loved how my bouquet left my reception and wound up into this beautiful piece of art a couple of months later, and I really appreciated the updates Daphne provided along the way. I felt my flowers were in good hands. "
– Mackenzie, Vancouver, WA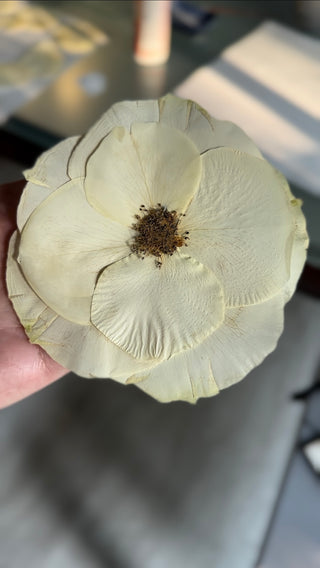 The flowers will fade over time, which adds to the quintessential beauty of an aging memory.
We would be honored to press your bouquet.
While white and light colored flowers ae signature color for many bouquets, the color tends to brown quickly. We can offer color correction techniques to help enhance the petal color.